So you know you should back up your data, and now you actually want to back up your data.
Great. So first off what to back up? For personal files it usually pretty easy. Should you back up photos and documents? Yes and Yes.
What about ripped commercial music and movies? Hmmm, maybe. The operating system? Ahh, sure – I think…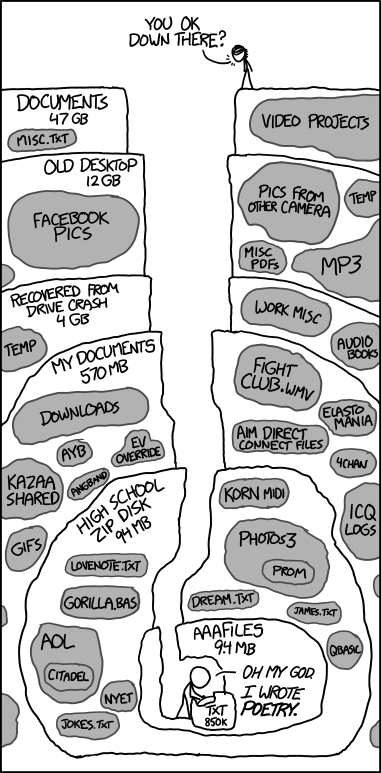 What data do you have?
Write down all the 'types' of data on your device(s) that you might want to back up. For example, This list may include:
My Documents (documents, presentations, spreadsheets)
Music
Movies
Home Videos and Photos
Email (if not web-based)
Contacts (phone #'s and addresses)
Stored Passwords
Browser Bookmarks/ Favorites
Program Data (e.g. iTunes database, install files, license keys)
Operating System (e.g. Windows, Mac)

To back up or not?
Not all data needs backing up. You might have a laptop or tablet that's 'just for surfing on the couch' that you're not worried about. Or you may have data you can source from the internet, or from friends and family.
For each type and place of data you listed above you need to decide if it's important enough to create a backup of it. To help you decide whether you should make a backup of it think about two things:
 Replace-ability: Does someone else have a copy? Could you recreate the data? How long would it take to get it or rebuild it?
Pain of Loss: How upset would you be if you permanently lost it?
How big is your backup?
It important to figure out how much space you'll need for backing up. For each type of data you have what is the current size of it, are the files static or changing, how much is it growing each year (e.g. family photo's).
Let's do an example data 'stock-take' for someone with one laptop and a separate PC for music and movies:
Device

Data Type

Size (GB)

Growth

p.a. (GB)

Replace-ability

Distress
if lost

Backup Priority

Laptop

Documents

5

0.5

Med

High

High

 

Photos

120

10

Low

High

High

 

Home Videos

65

20

Low

High

High

 Server

Music

50

5

Med

Med-low

Medium

Movies

1,500

200

High

Low

Lowest/ No

 

Total

1,745

235

 

 

 
So, now you should have a good idea for what to back up, how big you data up will be, and how quickly the size of your backups will grow. Next Step is creating a backup plan that fits with your data and back up priorities.